It feels good to be back with an Interior Design post on the blog! If you've been following along for a little while or visited my about page you might know that I graduated with an Interior Design degree from the University of Florida and started this blog as a little design adventure back in 2016. That's why I'm super excited to be sharing our bedroom decor and DIY upholstered bed frame with you today!
Over the years, I have expanded the content on my site and haven't posted as much about design and home decor. The main reason for this is because of our budgeting goals and our focus on saving money to buy a house. I was super hesitant to decorate our apartment and make it feel more like home because I didn't want to purchase any pieces that I didn't love enough to take with us when we moved. But after a few years of living in our apartment, we decided to make our space feel more like home. Doing so helped us to enjoy our time in the apartment and motivated us to continue focusing on our savings goal in the meantime.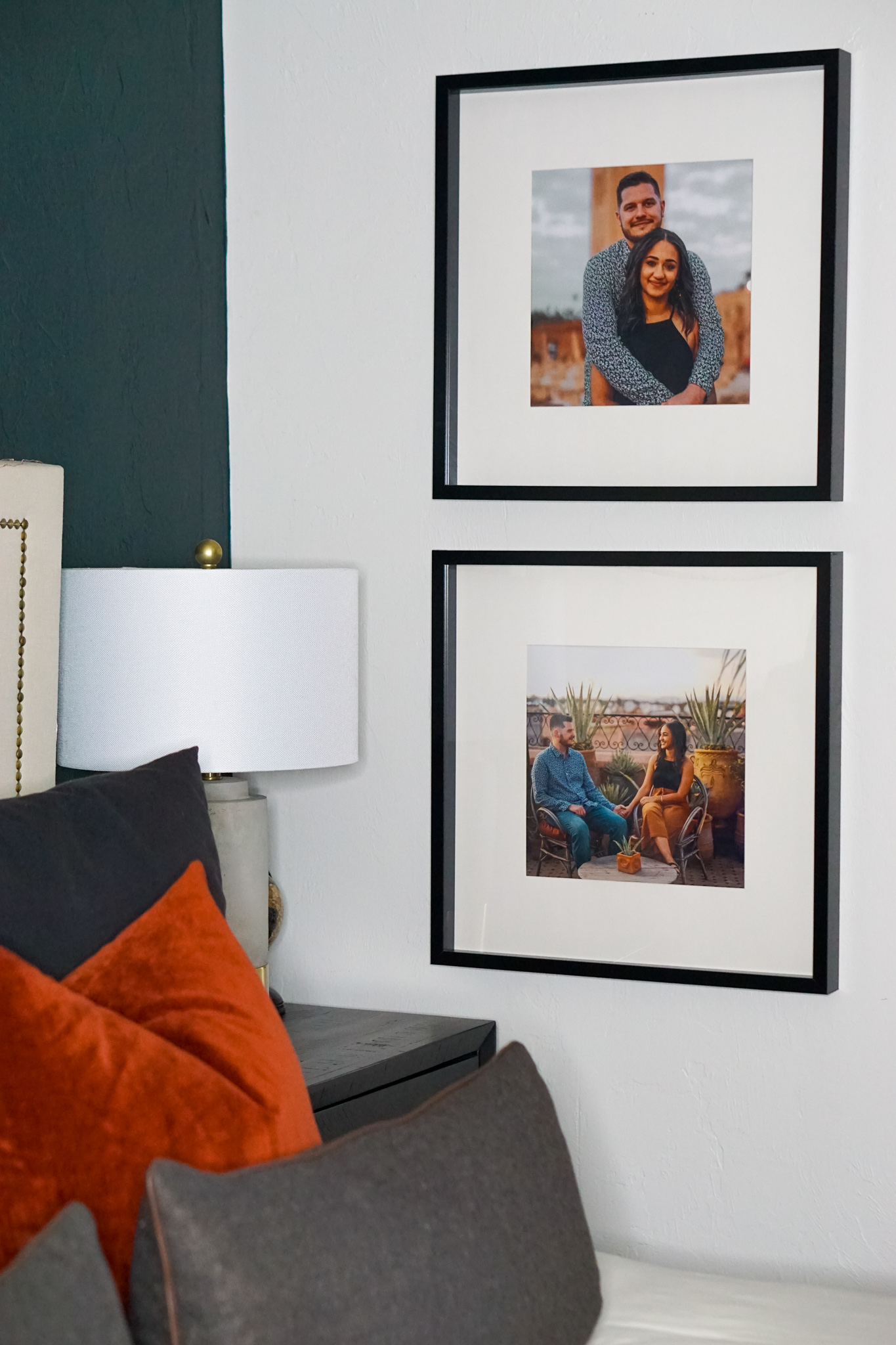 Let's dive in. . .
Needless to say, this post has been a long time coming! We started working on our bedroom a few years ago when I fell in love with this Crate & Barrel Bed Frame. It was exactly what I was looking for, but there wasn't a chance I was going to fork out the $1,700 to bring it home. Lucky for me, I have a husband who loves a good challenge, so we decided to build it ourselves!
At first, I was hesitant because I didn't think we could pull it off. It took us several weeks and a huge mess in our little apartment living room, but we did it! We built the bottom frame and headboard out of wood before covering it in batting and fabric. Each part comes apart thanks to these nifty brackets, so we will be able to take it apart and reassemble it when we buy a house. To this day I'm still amazed at how well it turned out. Even better, our total cost was just over $300 including supplies like our staple gun.
Supplies for DIY Bed Frame
Our assembled bed frame
With the bed done, it was time to tackle the rest of the room! Next up was the second-biggest item in the room, the rug. I fell in love with this Loloi rug and had to wait almost 6 months to find it on sale. I have expensive taste and an unwillingness to spend the money haha. Definitely not a fun combination but it helps me get creative! This rug was originally $1,600+ but I searched high and low and found it on sale for $470 at JCPenney over Black Friday weekend.
The rest of the pieces came together slowly. For many of them, I was able to find budget-friendly options. And for others, like our nightstands, I ended up making the investment because I loved them so much. All in all, it took about a year to pull our bedroom together, but it was so worth it! We absolutely love it and I know we will be able to bring everything into our future home one day.
CURIOUS OF THE COST?
I don't blame you! I know for me, I'm always curious about how much things cost. Home decor can be daunting because of how expensive it can be, but that doesn't have to be the case for you. Here is the full cost breakdown of our bedroom decor. Keep in mind that these costs were spread out over a 3-4 year period.
DIY Bed Frame, $300
Rug, $470.72
Nightstands, $659.12
Lamps, $106.49
Picture Frames, $90
Shutterfly Prints, $16.78
Artificial Eucalyptus, $20.99
String Lights, $12.99
26×26 Euro Shams, $68.25
Curtains, $38.99
Curtain Rod, $33.94
Moroccan Blanket, $35
Everything else (old and can't find receipts)
Total= $1,853.27
---
I'll be back soon with more interior design posts, but until then, check out all of the links below.
Shop Our Bedroom Decor:
Loloi Journey Rug (7′ 6″ x 10′ 5″): discounted in black/tan but available in blue HERE
Euro Shams (they look velvet in the listing but they aren't)
Curtain Rod: sold out in black but available in gold HERE.
Throw Blanket on the bed: from Morocco
Bench in front of the bed: TjMaxx
Boxes on Nightstands, Pillows: IKEA
Vase holding the Eucalyptus: Hearth + Hand by Magnolia at Target- discontinued
Duvet, Duvet cover, Sheets, Burnt Orange Decorative Pillows, Lumbar PIllows, Globe: TjMaxx
---
Want to read more?
If you enjoyed this post, you might enjoy these posts as well: