Oh my goodness guys! This is probably the post I am most excited to write about from our trip to Marrakech. I'm sad it's taken me so long to get it up on the blog but today is the day! Sometimes there are unexpected things that make or break your travels. For us, Riad Dar Zaman was the surprise of our Morocco trip. I'm excited to share about our stay at Riad Dar Zaman and how this little, unassuming Riad made our entire trip.
---
If you're planning a trip to Morocco yourself, check out my Morocco archives. And keep scrolling as we highly recommend making Riad Dar Zaman part of your stay.
PLANNING OUR STAY RIAD DAR ZAMAN
When we were planning our trip to Marrakech, we were amazed to see all of the riads. Each is its own unique little oasis with a design and feel of its own. There are thousands scattered throughout the city. You just kind of have to pick randomly unless you have heard of a specific riad.
We started off by checking the availability of Le Riad Yasmine. I had seen so much about it on Instagram thanks to popular travel accounts. I was over the moon that Le Riad Yasmine had 1 night available. Typically they have a 2-night minimum, but they waived it for us to be able to stay. Booking one night in the middle of your week isn't ideal for scheduling but we did it. From there we had a weird schedule to work around.
Thankfully, Tim is a master at researching and stumbled upon Riad Dar Zaman during his search online. They had great reviews and were much more affordable than Le Riad Yasmine. Plus, they were just a short walk around the corner. We decided to book our stay for 2 nights in the "La Terrasse Room" before our Sahara desert trip. And then when we got back, that room wasn't available so we switched to "La Carbone Room". Little did we know that quick little decision we made based on online reviews would make our entire trip!
OUR TIME AT RIAD DAR ZAMAN
The airbnb we stayed in on our first night in Marrach drove us to meet Hassan who took our bags and walked us to the Riad tucked back away from the bustle of the busy streets. As soon as we arrived, Hassan made us a fresh pot of mint tea and served us Moroccan Smida cookies. He was incredibly friendly and began walking us through everything we should know about our time in Marrakech. He even took out a map of the souks and recommended restaurants, activities, and how to not get scammed.
Over the course of our stay, Hassan, Mohommed and the rest of the staff at Riad Dar Zaman became dear friends. We found ourselves hanging out at the riad so we could talk with them and learn about their lives. Each morning, breakfast was included at the riad and we planned out our day following Hassan's recommendations. We explored the souks, purchased a Moroccan rug, and learned how to cook Moroccan food during our cooking class at the riad. They even offered to keep our suitcases and my rug so we could take just our backpacks for our 3 day trip to the Sahara desert.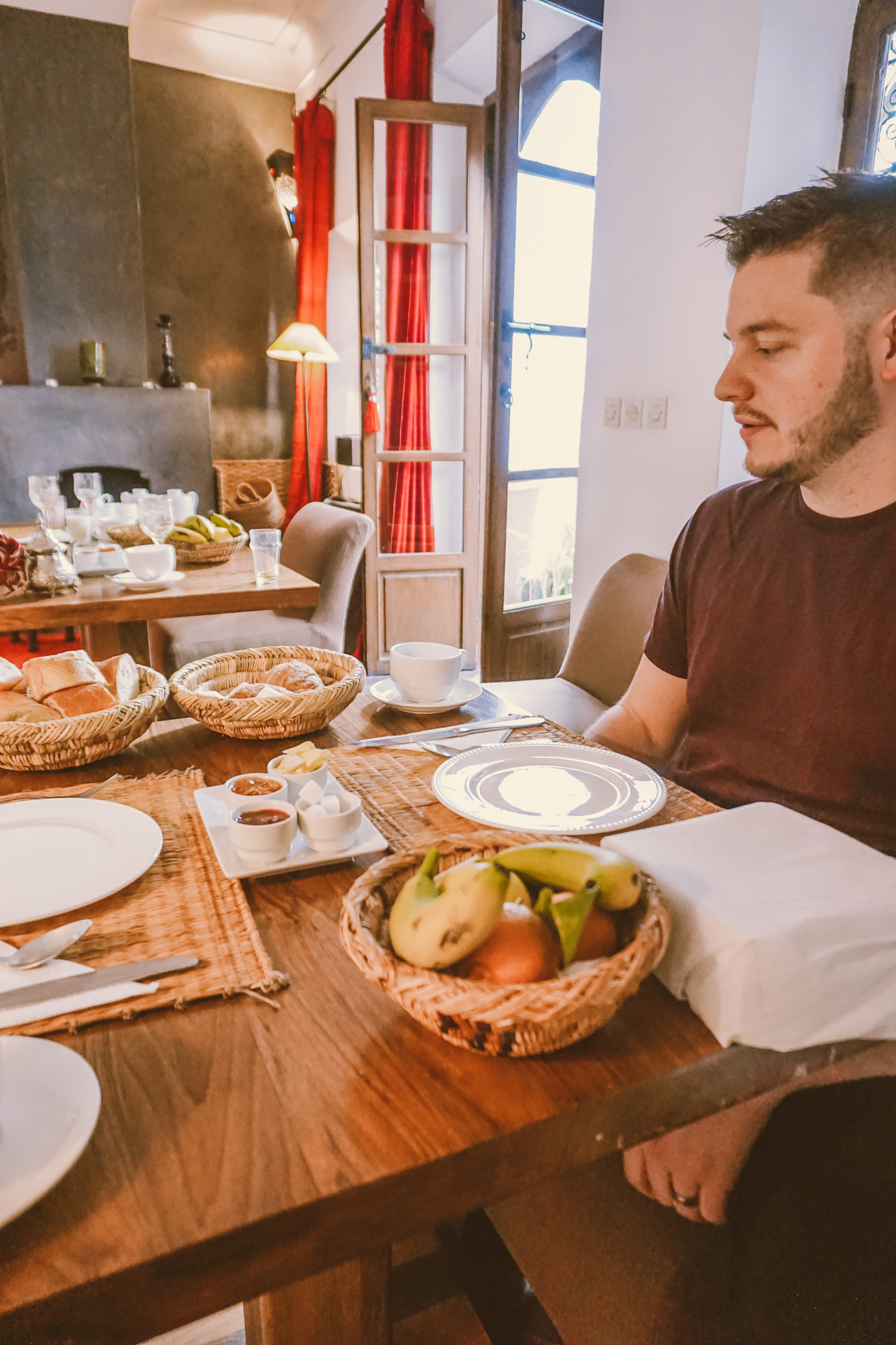 Want to book your stay?
Compared to other riads, the rooms are on the smaller side. But Tim and I treasured the company so much that we didn't even care. If you have a lot of bags, just know you might be stepping over stuff. The food was incredible and all of their recommendations for our time in Marrakech were incredible. I know I've said this so many times already, but Hassan completely made our entire trip! If you are headed to Marrakech, you should absolutely stop by Riad Dar Zaman. You can click here to book your stay (not sponsored). I hope that you have the privilege of meeting Hassan and if you do, please tell him I sent you 🙂
Thanks so much for reading!
---
Planning a trip to Morocco? Check out some of my other posts from our trip:
---
Interested in more of Morocco? Check out my travel diary on Youtube and my Morocco Instagram story highlights for Marrakech and the Sahara Desert!
PIN IT: