If there is one thing Tim and I love to do during our travels it's eating! Well, we like to do that all the time, but there is nothing better than authentic cuisine during travels. We tend to shy away from the tourist spots and trust the recommendations of the locals and we've never been let down. If you're looking for food recommendations for your time in Marrakech, look no further. I'm super excited to share the foodie's guide to restaurants in Marrakech medina. Sit back and be ready for your mouth to start watering!
RESTAURANTS IN MARRAKECH MEDINA
First up we will start with restaurants within the walls of the Medina. If you aren't familiar with Marrakech, there is the "old town" known as the medina and the new town. The medina is where the souks, winding streets, mosques, and main squares can be found. In the new town of Marrakech, you will find a much more modern atmosphere and a variety of food. Here are some of our favorite restaurants in Marrakech from our trip:
This was our first stop on our first full day in Marrakech and it did not disappoint! Our Riad suggested we try it out and eat the traditional Moroccan dish, Tangia. Similar to the specialty meats that are cooked in Tajines, Tangia is cooked in a clay put but instead of using an open fire, it is cooked in the ashes of the fire for most of the day. Definitely a must on your list!
2. CAFE DES EPICES– This is another great spot in the medina. The owners run a few restaurants (Nomad, Cafe Des Epices, and Le Jardin) and each has an upstairs balcony that overlooks the smaller spice square. This smaller square called Rahba Lakdima is tucked back from the main square (Jem el Fna). You can find lots of spices, woven baskets, and other woven textiles to purchase or just watch others shop while you enjoy a meal. We ordered the kefta tajine, greek salad, chicken tajine, and three bottled waters for 242 dirhams ($24.20 USD).
You'll get a lot of couscous in Marrakech, but nothing like the one they serve here! We were lucky enough to really hit it off with our photographers, Malika and Faisal, who shot our travel photos for our tradition. We decided to hang out with them again the next day, and they suggested we meet at Atay cafe. There is a great rooftop overlooking the medina and the couscous comes with sweet caramelized onions, a delicious sauce, and Harissa which is a spiced chili paste. It's the only place we visited in Marrakech that gave topping options for couscous and for that reason we really enjoyed it. We ate it so quickly and were deep in conversation so unfortunately, I don't have any pictures.
The hustle and bustle of Jemaa el-Fna at night is definitely something you can't miss during your trip. Vendors set up tents with numbered food stalls starting around 6 pm each night. You can expect to have guys up in your face trying to convince you which stall to visit, but don't be intimidated. Just keep your composer and do your best to ignore them while you find your way.
There are so many things to choose from and unfortunately its a hit or miss on the ones that taste good. Here was our riads recommendation from our time in the city:
Order kabobs and salads at stall 1
Try the fried fish at stall 14
You can get tangia at stall 15
If you're looking for vegetarian options, try the Moroccan Horira soup at stall 75
Definitely don't feel the need to stick to those though! If you're willing to try new things, I'm sure you'll find a stall that you love.
The square is one of the most intimidating areas of Marrakech so just be prepared. They will try to bring you food that you didn't order to increase their revenue but just say no. This is their way of marketing and they are being friendly! You just can't be shy 🙂 Also, double-check to make sure your bill is correct. With all of the hustle and bustle sometimes they get things mixed up.
5. FOOD TOURS
A great way to kick off your time in a new city is with a food tour. On the second day in Marrakech, Tim and I booked an Airbnb experience for a food tour. It was a great introduction to all of the intricacies of the souks and gave us an idea for some of the foods we wanted to try more of during our stay.
Another great way to try out different foods in Morocco is by doing a food tour. We booked a tour on our second day in Marrakech and really enjoyed it. You can learn more about the specific tour we did through Airbnb Experiences or on Mohammed's website. I recommend booking a food tour on one of the first nights so you get a guided tour through the souks and learn about all of the different foods there are to try.
It was during our food tour that we were introduced to our favorite food of the trip, Msemen. A soft pancake or tortilla-like flatbread served both savory and sweet and a must-try while in Marrakech. You can find little carts on the side of the road cooking them up and serving them with Nutella, cream, or even onions and spices. Fatima served them to us at her little restaurant, Hay Zafriti with chickpea soup.
Mohammed also introduced us to the food areas of the souks where you can purchase olives, nuts, snacks, and candies. A spot we frequented several times during our trip!
If you're like us, you'll want to switch it up after eating traditional Moroccan cuisine for a week. This is a great spot to get both Moroccan food and Italian food. We can't speak for the Moroccan dishes though, because as you can see it was all pasta for us! We ordered the spaghetti carbonara and ravioli and both were delicious.
A FEW OTHER RESTAURANTS IN MARRAKECH MEDINA
If you have some more time, here are a few other spots that we weren't able to make it to but heard wonderful things about.
Dar Cherifa– stop into this beautifully refurbished riad and bookstore before 4 pm for their orange cake with lemon Berbina.
Cafe Arabe– Italian and Moroccan fusion. A great spot for lunch
La Marrakachi– a more upscale spot with a hookah lounge and belly dancers
RESTAURANTS IN MARRAKECH'S NEW TOWN
Al Fassia– You should absolutely make the trip out of the medina for this restaurant! We ordered the lamb tajine with the caramelized onion and tomato. It was hands down the best tajine we had all trip! Plus we enjoyed some great mint tea and a wonderful atmosphere where all of the staff are women! Such a great experience.
Vita Nova Italian- we ordered the spaghetti pomodoro, Gnocchi, and prosciutto pizza for 390 dirhams ($39 USD). Everything was delicious! The best Italian food we had on the trip.
Brooklyn Burger– when you're really craving American food 🙂 Two Brooklyn burgers each comes with fries, chicken nuggets and a Coca Cola for 147 dirhams plus a 20 dirham tip ($16.70 USD)
Zushi– I was craving sushi so we enjoyed some delicious rolls and teas on one of our last nights in town. Check it out if you want the same.
We didn't get to try but heard great things about:
SWEET TREATS + DESSERTS
And of course, you can't forget the sweet treats! Many of your riads will serve you mint tea and traditional Moroccan coconut cookies called Smida. They are so yummy! You can find Smida, Gharibas and Fakas as well as many other sweet treats while wandering through the souks.
COOKING CLASS AT RIAD DAR ZAMAN
While in Marrakech, I highly recommend taking a cooking class. Most riads offer the option to take a class with the Riad cooking staff and I would go for it! We opted to do a half-day class during our stay at Riad Dar Zaman and it was great.
The owner of the Riad took us out to the market in the morning to pick up fresh ingredients. Then we came back and cooked a full meal including eggplant salad, sweet tomato salad, zucchini salad, chicken and olive tajine, mine tea, and cinnamon sugar orange slices for dessert. It was so fun to get to know the riad chef and also to learn about the french influences found in many Moroccan dishes. We were emailed the recipes afterward and still get to enjoy them today!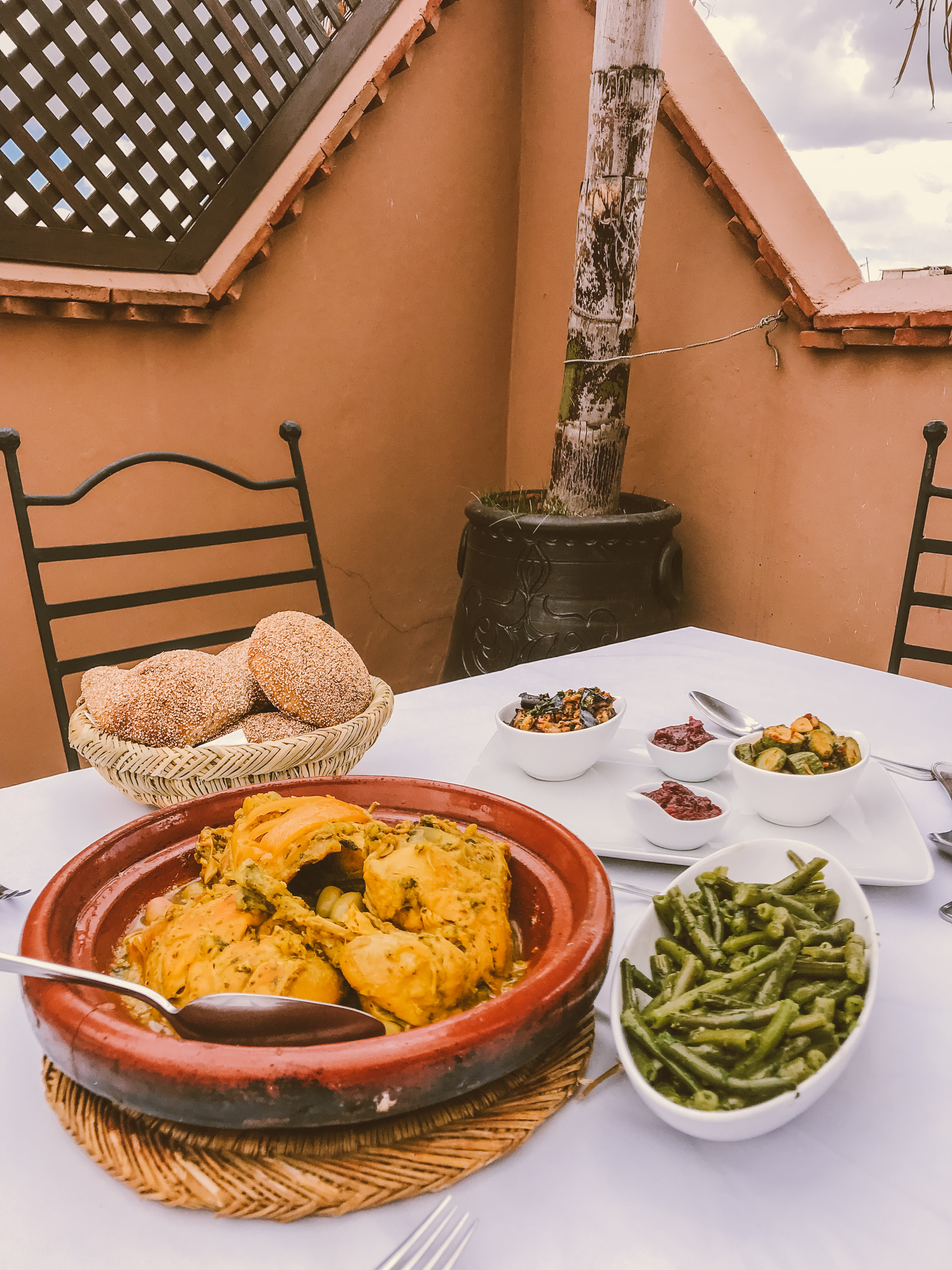 ---
Thank you so much for reading this post! I hope you feel ready to eat your way through the restaurants in Marrakech medina. I promise they won't disappoint. 🙂 And of course, don't hesitate to reach out to me on Instagram (@monique.mchugh) with any questions. I would love to help you. And last but not least, don't forget to pack stretchy pants 🙂
Looking for more help in planning your trip to Morocco? Check out these posts!
---
Interested in more of Morocco? Check out my travel diary on Youtube and my Morocco Instagram story highlights for Marrakech and the Sahara Desert!
PIN IT: