Being stuck at home the past few months has really made me appreciate the sweet memories we have made over the years with family and friends. I love looking back at old photos and reliving all of the details again especially those of our travels. Around 4 years ago, I shared our travel bucket list and when I was looking back over the post, it made me smile to see that we had crossed off 3 of the 5 destinations! I thought it would be fun to share some photos from those destinations along with my updated travel bucket list and in honor of that last post, also share our next international destination! If you love beautiful travel photos to inspire your travel bucket list, this post is for you!
CINQUE TERRE, ITALY
The first destination on my dream vacation list back in 2016 was Cinque Terre, Italy. I had seen so many beautiful photos of these 5 seaside villages (Monterosso al Mare, Vernazza, Corniglia, Manarola, and Riomaggiore) built into the countryside and had fallen in love. Not only was Italy the #1 place that I wanted to travel to in the world, but this exact spot held the very top of my travel bucket list.
Back in 2017, Tim and I had the amazing opportunity to travel to Spain and Italy. His parents had recently moved to Malaga, Spain and we decided to plan a trip out to see them and their new city. While we were there we, of course, had to tack on a trip to Italy, because why not? We flew to Rome, and we met up again with Tim's parents in Florence, before traveling to Venice, Lake Como, and back to Spain again. While we were in Florence we took several day trips (Sienna, Tuscany, and Chianti) and almost talked ourselves out of going to Cinque Terre! We were exhausted from the week and the trip would take a full day via train with a few hours to explore the 5 villages before hopping on a few more trains back to Florence.
Looking back I can't believe I almost talked myself out of going! It was the most amazing day filled with lots of hiking (be prepared for stairs lol), fried calamari, swimming, and breathtaking views. The train rides and walking were more than worth it, and looking back I'm so happy we decided to go for it. If you're ever in Italy, take some time to visit.
Here are a few photos from that day: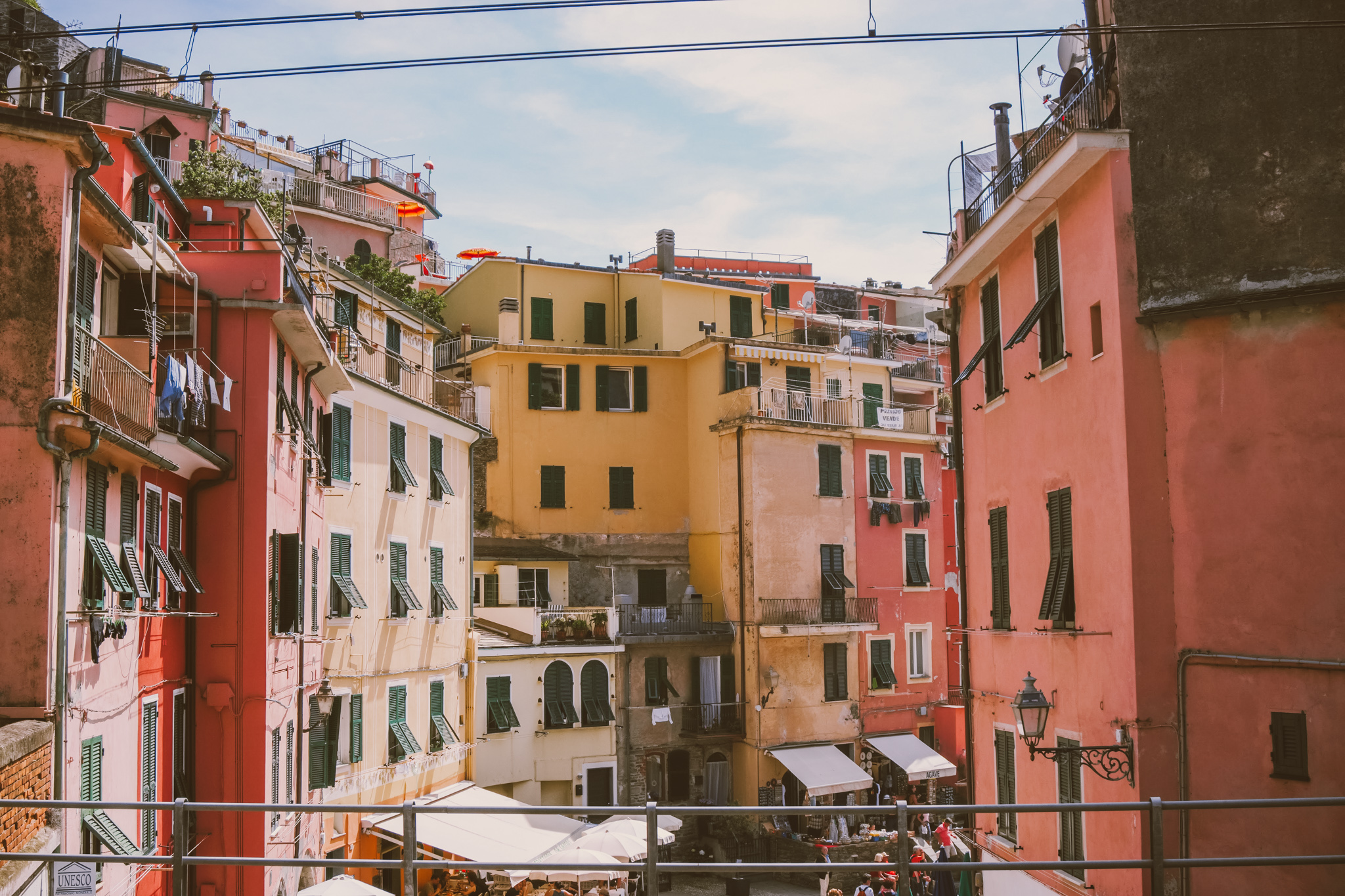 SPAIN
The next destination on my 2016 travel bucket list was Spain. Back then, I couldn't quite decide where in Spain I wanted to travel to but I knew we would be making a trip out there soon to visit Tim's parents. We ended up exploring Barcelona, Malaga, the southern beaches and had a quick pass-through Madrid on our flight home.
As you can tell from the pictures we spent a good amount of time eating and laying in the sun! Some nice relaxation after the business in Italy and it was much needed. Spain has beautiful beaches and incredible weather year-round. If you visit, be sure to eat some fish, churros, and rent a bike to explore all the beautiful scenery. You can check out my full travel guide for Malaga, Spain, here.
MARRAKECH, MOROCCO
The last destination on my original bucket list that we have been able to cross off is Morocco! In 2019, we stumbled on some cheap flights to Barcelona and decided to build our trip to Morocco. It was super exciting to be exploring a new continent and a completely different culture. When I shared my 5 dream vacation destinations back in 2016, I added Lebanon to the list because I'm half Lebanese and wanted to experience the culture. Morocco is another country that speaks Arabic and has a similar culture so I was excited to check it out.
Tim and I spent 2 weeks exploring Marrakech, camping in the Sahara Desert, riding camels, drinking mint tea, and shopping in the souks. We at all of the tajine and tangia we could get our hands-on and took so many pictures. I'm embarrassed looking back on all of the photos I haven't shared yet. Stay tuned, because all of those will be coming to the blog soon!
Here are a few of my favorite photos from that trip. You can also check out all of my Morocco blog posts, here.
Interested in more of Morocco? Check out my travel diary on Youtube!
MY UPDATED TRAVEL BUCKETLIST
Looking threw all of these photos makes me so happy! I cannot even explain how much I enjoy traveling the world with Tim. We made a promise to each other that we would travel to at least one international destination every year that we are married and so far we have kept to our word!
And those are just our international trips! Since 2016 we have crossed off 3 of my 5 dream international bucket list destinations. The only ones on the list still are Mykonos and Lebanon. Of course, since I'm addicted to travel, the list has grown a bit since then, so here is a quick update:
Mykonos, Greece
Beirut, Lebanon
Israel
Thailand
Australia
Another trip to Italy
Our next international destination . . .
With this virus, I'm not sure if we are going to get to do our international trip for this year. But we figured we would count it if it was within a few days of the new year lol. The other night I was browsing through my email and stumbled on $388 roundtrip flights through Pomelo. Call us crazy, but within 30 minutes we were on the phone with some friends and had all agreed to book the trip! Since the airlines have waived cancelations and change fees for all flights booked before May 31st, we decided we had nothing to lose and went for it! So. . . we are headed to THAILAND in January for 2 weeks and I cannot wait! It will be our first trip to Asia and we have two layovers in Tokyo too!
Let me know where you want to travel to next in the comments below 🙂
Thank you so much for reading!
---
Looking for more international travel tips and inspiration, check out my travel archives, here. You may also like these posts: