I'm back with another home decor post! Today I'm partnering with Photowall to share my top tips for selecting and hanging artwork in your home. I mentioned in my bedroom decor post, that it took Tim and I a few years after moving into our apartment to finally start decorating. Even after being here for 5 years, we still had very few things on the wall and it was time to make a change. If there is one thing that really completes a space, its artwork! So I'm brushing up on my lessons from interior design school to share a full guide to selecting artwork for your space.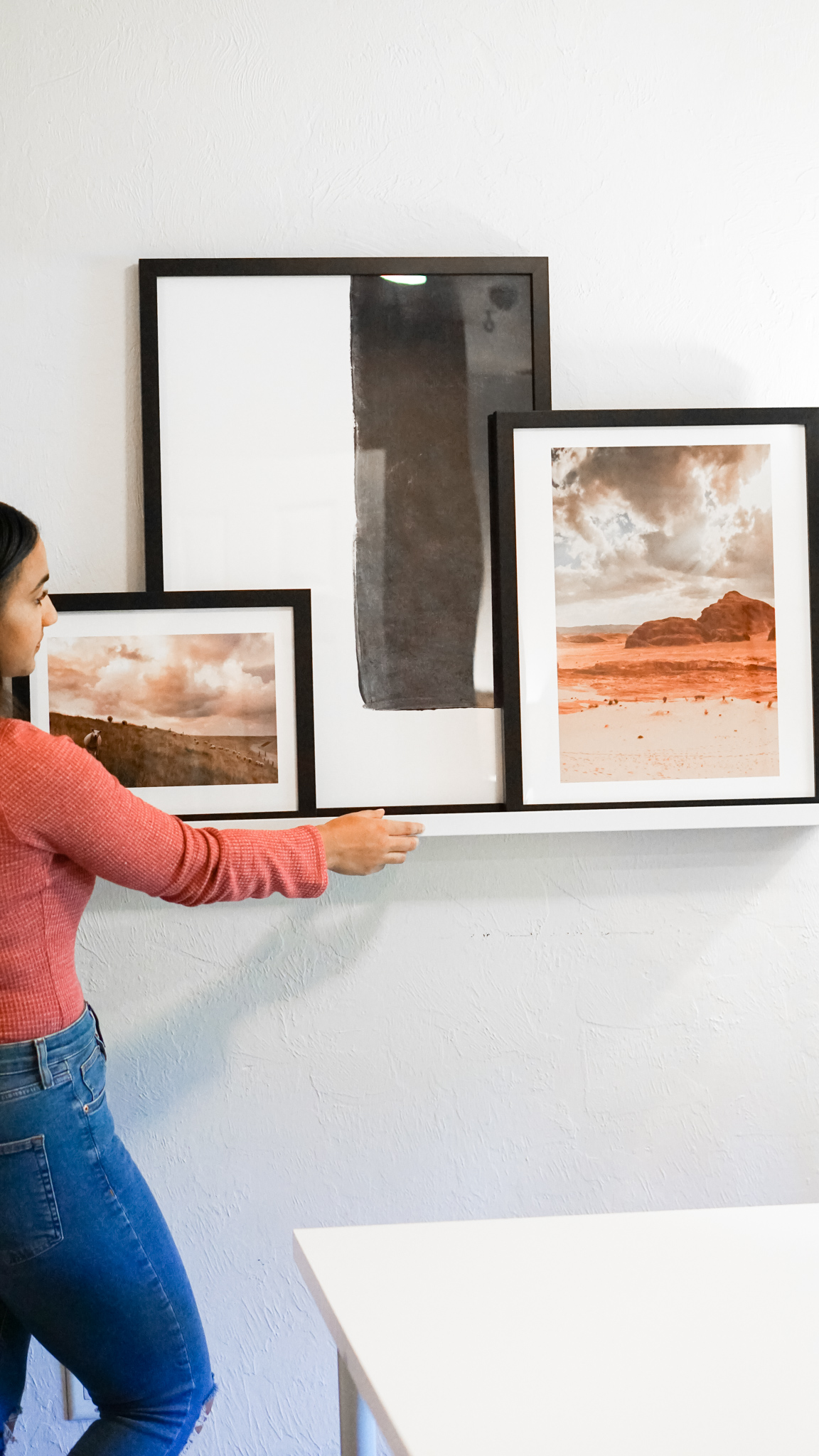 Shop framed prints: Heliopause 11×14, Attentive Sheep 14×11, Desert Pt IIII 16×20, State of Incertitude – D 20×28
I know I'm not the only one who has been in a home decorating kick lately! My friends and I have all been talking about home projects, mini remodels, and making our spaces feel more complete. We can all thank being stuck at home for that! An easy and affordable way to add a new feel to your home is with artwork. Here are 10 things to keep in mind:
1. MAKE IT PERSONAL
The artwork in your space should be personal and reflect your interests. Whether it's photos of you and friends or photography of places and things you like. Looking at the pieces on your wall should put a smile on your face and be meaningful to you.
2. FIND YOUR STYLE
It's easy to get overwhelmed by all of the options out there! There are endless pieces of art ranging from canvases, prints, photography, or even murals and sculptural pieces. The key is to find your style. I would recommend starting out on Pinterest and looking through different spaces as an example. Save the ones you like so you can go back and reference them later. This will also help you narrow in on the elements of different design styles that you like: more clean lines in modern style or more mixed and sporadic choices in eclectic design. Art is very interchangeable and there really isn't a right or wrong way of doing things.
3. CHOOSE YOUR COLORS
Next, you need to select an overall color scheme for your artwork. Consider the colors already present in your room but don't feel you have to stick to those perfectly. I like to venture into lighter and darker shades of the same colors to add depth. For example, the colors in our living room and dining room are blacks, greys, and burnt oranges. For the artwork, I used those colors but also ventured into some deep blues since these colors compliment each other well. A good rule of thumb is to look at a color wheel (just google color wheel), and select colors that are complementary or across from each other on the color wheel. In every color, there are a million shades to choose from and you'll notice that my orange and blue colors are much deeper, richer tones of the two colors.
4. GET THE SCALE RIGHT
An important thing to keep in mind when selecting artwork for your space is scale. That's a very designer term, but it just means sizing in relationship to other things. The biggest problem I see when people choose artwork for their space is that they select pieces that are too small. The same thing happens with rugs. What you don't realize is that selecting pieces that are too small actually makes your space look even smaller! Your goal should be to have less white space (bare wall) than artwork on the wall overall. In my experience, it's better to select pieces that are too big than too small, and to use other larger pieces like furniture to balance out the white space as well.
Shop canvases: State of Incertitude – C 27.56 x 39.37
5. CREATE GROUPINGS
When it comes to scale, another thing to keep in mind is grouping. The end goal is to balance out the scale on the wall, but this can be accomplished with one piece, 2 pieces, or a large grouping such as a gallery wall. Again the sky's the limit here! Personally, for me, I like using rectangular shapes in groups of 3's and square artwork in even groupings of 2, 4, or 6. You can see an example of this in the entryway and in my bedroom. With that said, I like clean lines and things to be centered, but if you are going for a more eclectic look, I would encourage you to venture out into something more playful and even consider mixing shapes and sizes.
6. SELECT FOCAL POINTS
When choosing artwork, I like to start with a focal point and pull things around that. This could be a favorite piece that I'm going to start with and choose the rest of the pieces to match or a part of the room that I want to draw attention to. Having a focal point helps to ensure things aren't competing for attention. You can mix textures (some busy and some simpler) to balance out the focal points. Think of one piece as the star of the show!
7. MIX YOUR STYLES
Like I mentioned above, there are so many options for selecting artwork for your space. Personally, I like to use a mix of abstract art, landscape photography, and geometric shapes. Those just happen to be the things that catch my eye when I go on Pinterest! Once I have my color scheme in mind, I look for a mix of pieces that pulls from those colors and look good together. You can also look through photos of yourself, family, and friends that have similar colors to mix in or print those in black and white.
8. PLAN IT OUT BEFORE YOUR BUY
Once you have some pieces selected that you like, it's time to plan it out. I use painters tape and wrapping paper to play with sizes and tape things up on my wall. I recommend you leave it there for a few days to make sure you still love it and to ensure the scale is right. Another great option is to use tools like Photoshop, Canva, or Microsoft Word to download the images and put them all together. This way you can see what they're going to look like side by side and play with the layout.
9. HANG IT UP
The last step is to order everything and hang it up on the wall. Keep in mind heights when you are doing this. The interior designer's rule of thumb on this is that the center of your artwork should be at eye level. Typically this is on average around 5 feet, give or take a few inches. For those who are taller, like my husband, I recommend bumping this up a few inches to make sure the tops of the frames aren't below high eye level.
If you are hanging a group of photos, it's okay if some are below and above that eye level, but they should be centered around the one that is at eye level.
---
I hope you enjoyed this post and feel excited to add some new pieces to your home. Selecting artwork for your space can be daunting, but I hope this post breaks it down and makes it a bit easier for you. If you have any questions or want to send me pictures of pieces you are considering, shoot me a DM on Instagram or email me. I am always happy to help 🙂
You can also get 25% off your entire order with Photowall by using the code moniquemchughpw2020 between now and June 18th, 2020.
Thanks so much for reading!
---
Looking for more inspiration? Check out these posts:
Thank you Photowall for sponsoring this post! All words and opinions are my own.